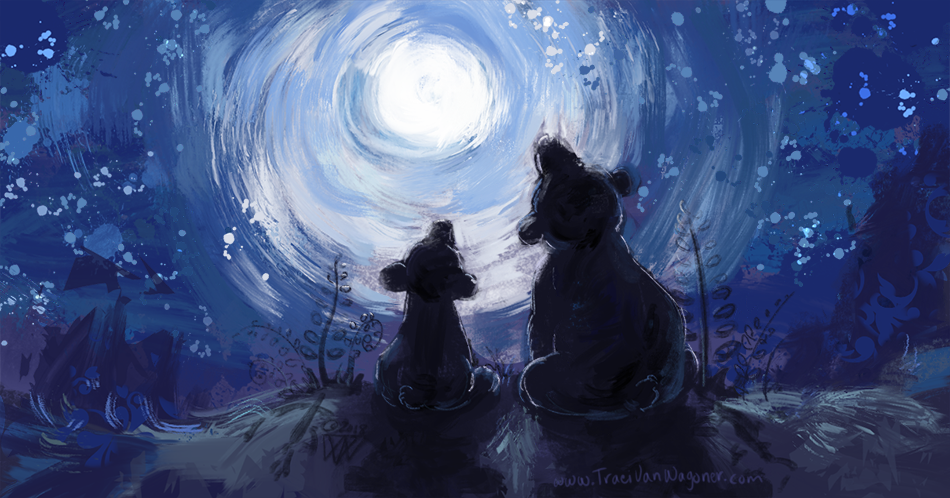 Welcome to Blue Bear Stories

Blue Bear Stories is a publishing division of
Imagine That! Design.
Our goal is to share new and adventurous stories with young readers that will help encourage imagination and promote kindness and acceptance of everyone in a diverse world filled with many cultures and experiences. Each story will be presented with our own creative storytelling style and dynamic illustrations. We hope to inspire imagination, spread joy, and encourage more human interaction through the joy of reading a good book together.
Traci Van Wagoner - Illustrator

Award winning Illustrator Traci Van Wagoner holds degrees in illustration from Utah State University and in toy design from the Fashion Institute of Technology in New York City. A long time member of SCBWI, Traci has illustrated over 15 children's books, and blue bear has shown up in every one of them. When not painting, she is writing picture books and middle grade novels; designing and developing games with her husband at Imagine That! Design; gardening on her roof in NYC, or walking her dog exploring the hidden secrets of community gardens. See more of her work on her
website
.
Kurt Keller - Designer
Born and raised in NY, Kurt Keller was always surrounded by art and design. He found his passion young, in elementary school art class, honed his skills in high school, and finally graduated college with a degree in Industrial Design and a degree in Toy Design, giving him the ability to let his creative passions soar. He has designed many books for children including the Nelson Beats the Odds Series. Blue bear was his childhood friend, so it made sense to use Blue Bear as a mascot for the publishing division of Imagine That! Design, Blue Bear Stories. Follow Kurt on
Facebook
.
The stuffed blue teddy bear has been a part of Kurt's life since childhood, and has become our mascot at Imagine That! Design. He has made an appearance in every picture book Traci has illustrated. (see her
website
to see the books)
He also loves reading books and providing reviews on
Blue Bear Reads
.
He plays games with us and comforts us when sick or sad.
It only made sense when we decided to create our first book, Itsy Bitsy Teddy Bear's Adventure, for Traci's Mom, Marilyn Van Wagoner, to make a publishing imprint named after our mascot, Blue Bear.